Talk: Invisi-ball - A ball game for visually impaired.
Universal Design — Aiming for Accessibility
Day

Sunday 13th of November, 2011

Start

17:15

End

18:00

Duration

0:45:00

Room

2
by Håkan Lidbo & Magnus Frenning
Invisi-ball is a new game concept for two persons. Instead of a ball, you play with a sound that follows the laws of gravity. Your movements create music through the progress of the game. It's played in a pitch black room, blindfolded or by visually impaired. It includes surround speakers, 3-dimensional sounds, infrared sensors, accelerometer control and music.
Invisi-ball is a playful way to practice how to orient yourself only using your ears. For those who recently have become blind and for those of those who can see - to better understand a life without sights. Invisi-ball is a fun game for everyone.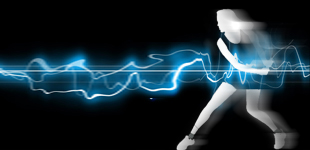 This session is confirmed at the above listed time
Concurrent events:
Next (up to 3) talks in the same room (2):
Sorry, no session in this list!
Events that start after this one (within 30 minutes):