Getting there
Humanisten is located near the public transport junction Korsvägen which can be reached by a large number of tram and buss lines, including tram lines number 2, 4, 5, 6, 7 and 8; and buss lines number 50 and 52 and the airport bus.
From Korsvägen there is a 5 minute walk to the Humanisten building. The path is shown in the following map where Korsvägen is marked with a purple buss and Humanisten is marked with an orange star. Cross the road to the west of the tram stop and take a flight of stone stairs leading upwards between the buildings. When you reach an open grassy area take the road to your left.
Outside the entrance to Humanisten stands a prominent sculpture shaped like a large ring which can be recognised from afar. It is shown in the picture below. Here is a general map of the area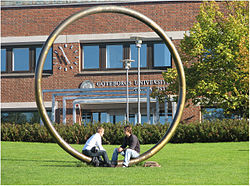 Since Humanisten is located in such a central area it is within walking distance of much of the city centre.
Opening hours
The venue will be open from about 15 minutes before the start of the first event of the day to 23:00 in the evening. To make things easier for the FSCONS staff all participants are asked to observe this rule and leave the building by that time.
Checking in at the venue
Participants check in at the venue by collecting name badges and welcome information that will be laid out in a visible spot near the entrance. No other form of registration is required.
Accessibility
The venue building at Humanisten is an official Swedish education facility and should be designed to be accessible to everybody, regardless of needs and means of transportation.
Elevators are available as well as toilets with extra space and movement aids.
Most lecture room that will be used have a sound system which can be used together with hearing aids. All speakers have been encouraged to consider the clarity for all people in their visual material.
The staff at FSCONS is happy to give assistance to anyone who needs it in order to get access to the conference, both beforehand and during the event.
Cloakroom
There will be an attended cloakroom at the information desk.
Please observe that the information desk will close at 23:00!
Any possessions not collected at that time will be left unattended.
ATM
The nearest ATM is located at Korsvägen. It is located on the opposite side of the public transport stop relative to Humanisten, in the direction of the glass clad tower buildings.
Wi-Fi network
Wi-Fi Internet connection will be available for all participants. Login information will be printed at the name badges that are given to all participants when checking in at the venue.
Parking at Humanisten
There are many small parking spaces located around Humanisten. Most of these will require cash payment.